SERVPRO can restore fire Damage caused by electrical equipment
6/4/2018 (Permalink)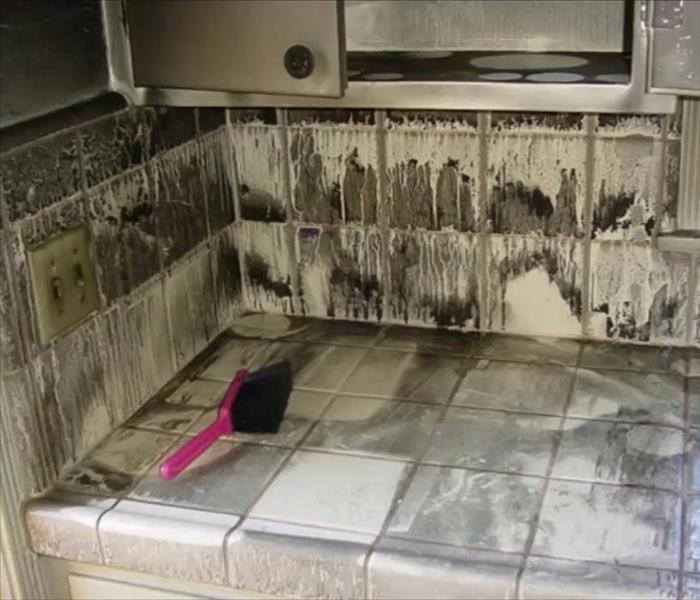 After a fire, soot can be left on the walls and floor. Count on SERVPRO to remove all of the fire damage.
SERVPRO can restore fire damage caused by electrical equipment
Electrical appliances remain a standard in even the smallest of dwellings, but extras that help make a house, or apartment, 'home' can cause problems if left unattended. While safer than lighted candles, some small electrically-powered devices can overheat.

Your home in Los Angeles can sustain fire damage if you install bulbs of incorrect wattage into lighting fixtures. These are not the only sources that can catch fire after overheating, in any case. Clothes irons and hair styling wands and straighteners can also become problematic. Not only do they heat up immensely as part of normal functioning, if left turned on and forgotten, but they can also either heat up the area and start a fire or short circuit after reaching a specific temperature.

If you are at home when this happens, the fire damage might not spread. Putting out a fire when an electrical device is that fire's source can pose electrocution risks to you. This risk is a large part of why so many small fires become more massive and out-of-control blazes. SERVPRO technicians receive certificates in areas that help us professionally restore damaged homes and apartments, so they look "Like it never even happened" when we finish. Our IICRC certified Fire and Smoke Restoration Technician (FSRT) gives each customer's dwelling, including smaller homes and apartments, the attention needed to restore everything completely.

When electrical fires occur, SERVPRO partners with licensed electricians to help ensure that your home becomes safe again. If you used water to put the fire out, our partner assesses the damage done to wiring and other electrical components before you and your family return home after our restoration work concludes. After this electrical work is finished, restoration of your walls and other furnishings can take place. Painting and wallpapering in your choice of colors or patterns as the final touches to visible damage undoes the grimy damage left by the fire.

Odors, however, often come from seemingly nowhere distinct, but seem to permeate many dwellings with fire damage. Our Odor Control Technician (OCT) can determine where these odors originate from and destroy their cause. This might include injections into carpeting, gel packs placed inside wall cavities, or thermal fogging. Discussing the option available can rid you of the problem odors experienced.

SERVPRO of Marina Del Rey / Westchester / El Segundo serves residents in the Playa del Rey and Loyola Village communities in mitigating fire damage. If your home suffers any degree of fire damage, give us a call at (310) 333-0654, so we can discuss how our services can help you restore your home to a preloss state before the damage worsens.
For the history of Los Angeles, CA click here.