Water Damage and How It Affects Homes in Los Angeles
8/15/2017 (Permalink)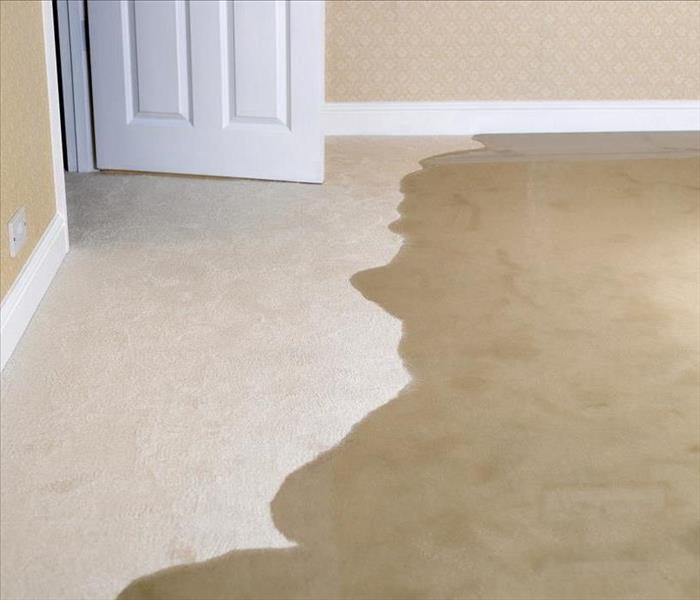 At SERVPRO we have professional carpet specialists who can mitigate and save your carpet to help keep your home safe and looking its best.
How Water Damage Affects Your Home
Misplaced water can come from different sources. The damage left behind can create various problems and hazards within a home's interior. The visible ones, such as staining of ceilings, often make a home seem much older and dated than it is, while invisible damage can decrease your home's ability to provide a haven for your family.
Many homes in Los Angeles are architecturally beautiful, but this quality can also increase how much water damage a home suffers. Water spreads out on a surface, absorbing into porous items touched by the water, and traveling downhill due to gravity while seeping uphill when wicked upwards. Even the smallest, microscopic openings allow water to enter.
Drywall is quickly affected by water's presence. Painted drywall can become discolored when moisture exists in tiny amounts, while larger amounts of water cause swelling and inevitable disintegration and crumbling away of drywall sheets' interiors.
Carpeting also fares rather poorly when exposed to water, as does the padding underneath. The water damaged padding cannot sustain its compression. This can create an uneven floor, highly visible traffic patterns, and increased deterioration of the carpet above. The professional carpet specialists at SERVPRO are IICRC-certified in caring for carpets. Slight water damage can often be mitigated and save your carpeting, making it crucial to call for assistance as soon as you realize there is a problem with water. Waiting can result in a destroyed carpet and the loss of a valuable investment.
When non-structural items in your home suffer from damage by water, such as drapes and furniture, SERVPRO can help return these belongings to like new condition once again. We have access to advanced equipment that can restore these items for you again. We can box these items up and transport them, then return them as soon as possible.
Water may be a vital substance for life, but when it affects homes adversely, SERVPRO of Marina Del Rey / Westchester / El Segundo is there to help you. Water damage causes loss whenever it remains unmitigated, but we are only a phone call away. Contact us anytime, day or night, at (310) 333-0654 to prevent this type of damage from happening in your home.
To learn more about Los Angeles, visit https://www.lacity.org/.