Water Damage: A Parting Gift From Your Guests In Marina Del Rey
4/20/2017 (Permalink)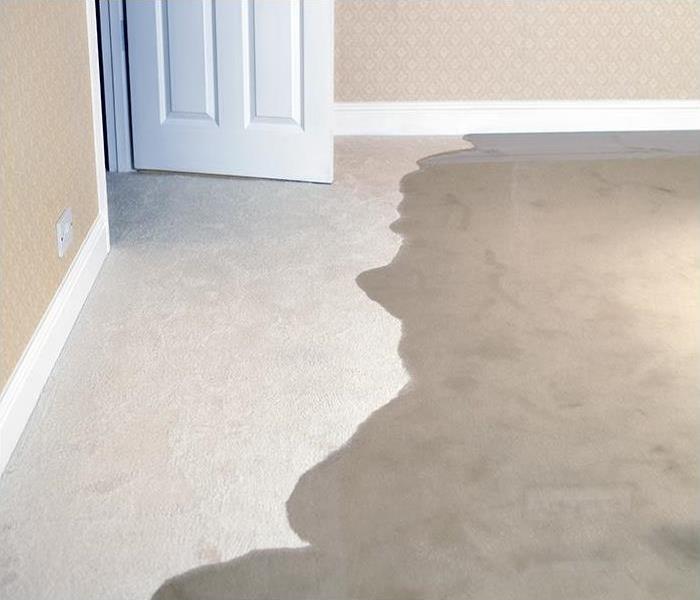 Expert technicians are ready to inspect the damage and take the steps necessary to restore both structure and keepsakes.
Water Damage To Your Property
Your family and friends love to visit you seaside, and you love to host gatherings and long weekends. Unfamiliarity with the logistics of the tubs and showers in the guest wing left you with water damage caused by loved ones after the Spring holidays this year. A call to SERVPRO assesses the damage and devises a plan to restore the bathroom to preloss condition.

The last thing you expected when the final guest left at the end of the weekend was your first view of the water damage in your Marina Del Rey villa. Enthusiastic use of the whirlpool tub and the failure to latch the shower door properly caused water to flood across the tiles. Your office/craft room below the guest wing shows leaking through the ceiling and down one wall, unfortunately, the wall you lined with family pictures. Do not delay calling our office. Expert technicians are ready to inspect the damage and take the steps necessary to restore both structure and keepsakes.

A tiled bath may appear impervious to water, but moisture wicks through unsealed or cracked grout to the floor and ceiling below. Joints at the base of a wall are not always tightly caulked and let the water drop through. Since your houseguests failed to alert you SERVPRO shows you how the water traveled and what to do to reverse the harm. The floors in the bath itself receive a thorough going-over with our powerful suction extractors. Then we inspect the subfloor for weakness or damage because of the water. Air movers and dehumidifiers finish that part of the job on the floor and wall surfaces.

Our crew moves to the lower level room and determines how to dry the ceiling and walls. Ceiling tiles pop out and are easily replaced if damaged beyond repair. Removing them while aiming air movers at the ceiling help complete the drying of the bath's subfloor and assist in bringing the air moisture count lower. Drywall goes one of two ways -- replaced if crumbling and if signs of microbial growth are present, saved through the use of air flow, heat and dehumidifiers if solid and clean. Insulation, if present, is inexpensive to replace if drying seems impossible. As our techs move through the rooms periodic moisture readings guide their steps.

Finally, the pictures and other mementos on the walls receive an inspection and plan for restoration. Our technician's complete classwork in the science of drying documents and pictures, using techniques like freezing, freeze drying and blocking to restore your treasures as much as possible. Some of the items leave your premises for these specialized methods.

When the hostess gift you receive from careless guests damages your home SERVPRO of Marina Del Rey / Westchester / El Segundo knows how to help. Contact us at (310) 333-0654 to assist with the cleanup.