Respond to Early Signs of Mold Damage in Marina Del Rey the Right Way
3/25/2018 (Permalink)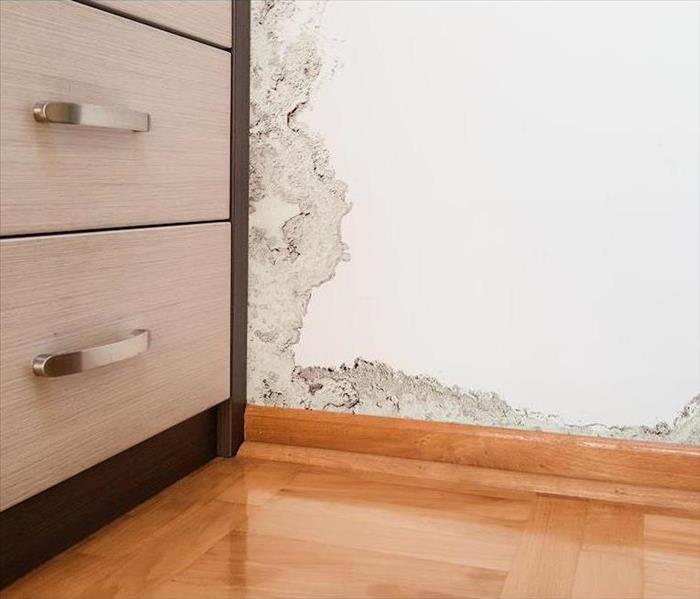 Mold can spread very quickly. Make sure to contact SERVPRO at the first sight or smell of mold for best results.
SERVPRO Technicians can Offer Many Helpful Suggestions for Preventing Future Infestations

Massive mold damage problems in Marina Del Rey and other local communities always start with a humble common cause: a few microscopic spores find their way into the home, find sources of food and water together, and start to multiply exponentially. Cutting off growth at this initial stage, before ten spores become ten million, is often the easiest and least expensive way to prevent future damage to your home. The key lies in vigilance, planning, and fast reactions to initial warning signs.

Keep the Home In Shape
In almost all circumstances, mold damage in Marina Del Rey cannot develop without a suitable source of water coupled with an organic surface to grow on. While it may be impossible to reduce the amount of wood, fabric, and other edible materials in your home, preventing water from reaching these materials should take little more than a watchful eye and fast reaction.

Eliminate leaks quickly and be sure to hire a professional company like SERVPRO if any water damage starts to get out of hand. With appropriate care, your home can be at a drastically lower risk of developing fungal growth than even the neighbors' next door.

Take Warning Signs Seriously
Signs that mold may be growing in your home, such as strange, moist films or an inexplicable white patch should be given great weight and reaction. Calling us in for such an issue may seem trivial and unfit for our scale of operations, but doing so may help to avoid a costly and lengthy full remediation process later on. React fast, as these small precursors can become a full-blown infestation in only a few days.

Don't Fight It Alone
Trying to fend off mold damage on your own may seem both feasible and inexpensive, but in reality, this is often one of the costliest mistakes a homeowner can make. In addition to damaging your home, many species of mold can cause health effects and may be aggravated by improper attempts to remove the growth and sanitize the area. Treating fungal infestations requires advanced certifications and precautions like those carried by our technicians to avoid costly consequences and unsafe situations.

SERVPRO of Marina Del Rey / Westchester / El Segundo provides expert mold remediation solutions to homes all across the local area. To learn more about our services or request help, call us at (310) 333-0654.

Click here for more information regarding the city of Marina Del Rey.