Some of the Most Famous Structures in Los Angeles Sometimes Need Mold Removal
11/24/2020 (Permalink)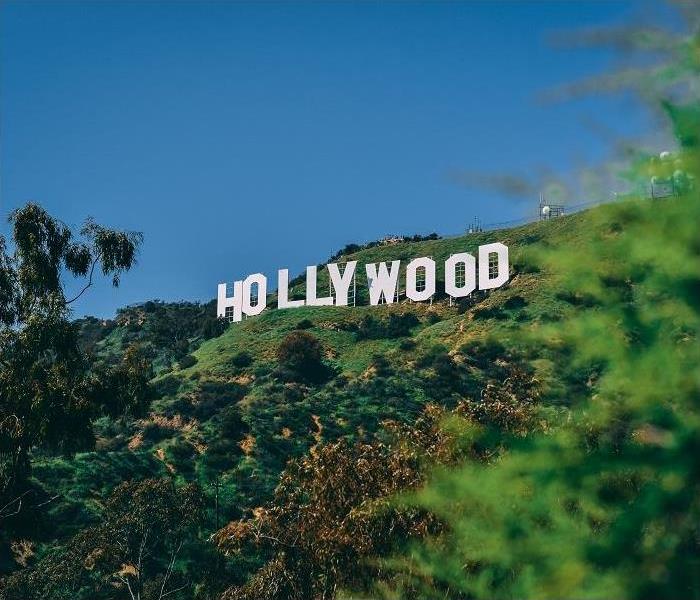 Hurray for Hollywood and SERVPRO! We continually train so that we can resolve any mold issues quickly and effectively.
Take Some Tours Through one of the Largest Cities in the World to Learn About the History of L.A.
As the second-most populated city in the country and the third-largest in all of North America, Los Angeles undoubtedly has more than a handful of alluring attractions for visitors and long-standing residents alike. There is always something occurring in the city to appeal to all tastes. Because of its sheer enormity, it can be overwhelming to navigate L.A. to get to where you want to be and to take in all the sights that you hope to in the time that you are here. Tours provide a condensed look at some of the top-tier attractions and historic properties for the region without the stress of driving from point to point.
Major Attractions and Stops on the Tours
There is always a lot to see for anyone traveling to Los Angeles and its surrounding areas. As one of the largest metropolitan areas on the continent, tours regularly depart to showcase some of the most iconic locations and memorable spots throughout the city. While there are hundreds of places that fit these criteria, many of the overlapping sites seen on guided tours include:
Hollywood Sign – Iconic lettering on a hillside visible from many areas of Los Angeles County
Capitol Records Building – A 13-story recording studio and headquarters for the Los Angeles branch of Capitol Records. Often referred to as the 'House that Nat Built' based on the profitable records for Nat King Cole produced in the building
Walt Disney Concert Hall – This structure was built in the 1980s to commemorate the love of the arts for the late Walt Disney. This state-of-the-art structure continues to be a preferred venue for many performing arts mediums
Grauman's Chinese Theatre – Perhaps one of the most replicated iconic buildings globally, the famous Chinese Theatre is often the backdrop for new stars getting placed on Vine
Hollywood and Vine – One of the most globally recognizable intersections and served as a central point between a flurry of radio, television, and film production studios in Los Angeles
Types of Tours You Can Take Through Los Angeles
Just considering a guided tour is not typically enough to narrow down your potential options in the city. You can choose the kind of information and stories you hope to hear from the experts who know it best for most visiting the municipality. You can wander around the city in hopes of coming across landmarks and historic structures. However, you are relying on the internet's inconsistencies to give you the information you need. No matter what kind of guided tour you hope to find, it is waiting for you in Los Angeles.
Star Tours
Perhaps the most profitable and widely replicated niche of the guided tours in Los Angeles are those taking paying guests through neighborhoods like Beverly Hills and the prominent areas above L.A. to view the homes of some of the most well-known celebrities in the world.
History of Los Angeles
Many people choose to equate Los Angeles with so many things, from sports championships to a mecca for film and television production. There is much more to this city's growth and development than many people know. Some stories have shaped how the world would come to know people and companies born out of Los Angeles County.
Iconic Vistas
You may not expect Los Angeles to be a place where you can get extensive and unhindered views of nature, but multiple parks and reserves surround the city designed to protect some of its inherent beauty. Walking and hiking tours can take you to some of the observation points around Los Angeles, and many give you a close look at the iconic Hollywood sign.
The Macabre
You might not be surprised to learn that multiple tours depart from various city areas fixated on the deaths of celebrities or famous murder cases from the often-sordid history of Los Angeles. There are numerous tours, one even hosted by a clown, detailing some of the most recognizable murder and unexplained phenomena from L.A.'s past. These cases include the infamous Black Dahlia or the Manson Family murders. There are some stories that fewer people know about – many ultimately leading to small museums showing some of these cases' artifacts.
Overcoming Mold Concerns in Los Angeles Homes
Mold can be one of the most difficult concerns for those exposed, which makes it vital to remove from homes and primary tourist attractions throughout the city. A simple persistent leak can be responsible for the rapid degradation of hosting materials and organic matter. In these situations, a primary culprit is a wooden framework, fixtures, carpeting, and the gypsum board's porous composition.
The suspicion of mold should be enough for property owners and families to conduct a proper inspection and evaluation. We have experienced remediators and hygienists on staff to conduct thorough air sampling. Environmental testing can identify higher-than-normal concentrations of mold spores and microbes in the structure that indicates active colonization.
Mold removal for Los Angeles homes is possible through the remediation process exclusively. While modern practices cannot remove naturally occurring mold spores, eliminating active colonization is the foundation of successful remediation. There are multiple approaches for this phase, and it varies based on the severity of the damage and the accessibility of hosting materials. Remediation often involves several of these techniques:
Surface cleaning with antimicrobial solutions
Sanding
Media/dry ice blasting
Controlled demolition
The elimination of active colonization in your home is only complete when moisture and water damage allowed the growth are resolved. Our SERVPRO of Marina Del Rey / Westchester / El Segundo team can help with each phase, from remediation to repairs. Give us a call at (310) 333-0654.