How Do Carpeted Floors Get Restored After Water Damages?
10/30/2020 (Permalink)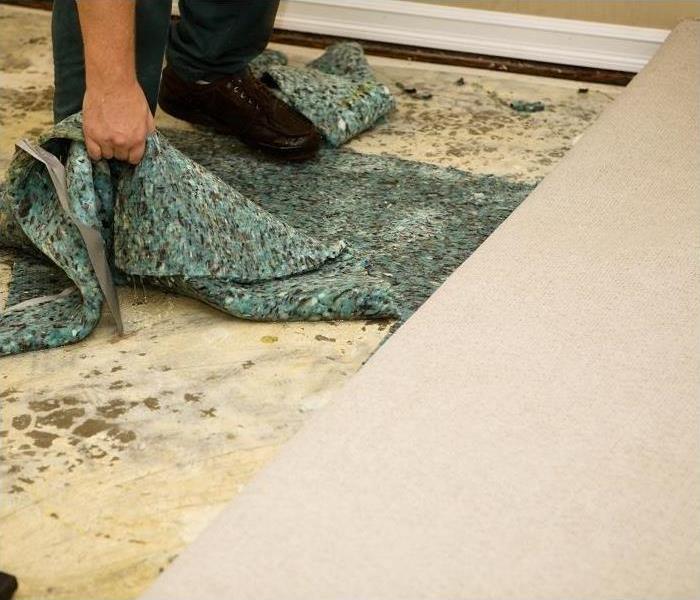 Water can quickly damage carpet and floors. Sometimes it is unsalvageable, and needs removing to dry and restore your home.
Flooring is Often One of the First Areas of Your Marina Del Rey Home Impacted by Water Disasters
Overflowing bathtubs or broken plumbing fixtures are just a small portion of the possible ways that water disasters can impact your Marina Del Rey home. Becausewater often collects on the house's flooring, materials like hardwood and carpeting become susceptible to saturation by absorbing the pool. The fibers and underlayment carpeting materials are among the most porous of all the flooring installed in modern homes.
While restoration is the foundation of our SERVPRO team's work, we also strive to help customers with water damage repair for their Marina Del Rey homes. With carpeting so susceptible to water damage effects, the faster that competent technicians like ours can begin working on drying and extraction, the more affected materials do not require removal. Releasing trapped moisture from carpets involves multiple tools used in the appropriate order, including:
Carpet wands
Wet vacuums
Weighted extractors
Centrifugal air movers
How Can Contractors Help with Severely Damaged Carpets?
Oversaturation is a considerable concern with water disasters in the home, especially when mitigation does not begin as quickly as it should. In some situations, drying decisions must get made regarding the salvageability of impacted materials to determine the viability of original construction elements.
If mold or deterioration has started on the carpet or the fibers' backing, it is often more cost-efficient for the customer to remove this surface layer. Likewise, tear out might also consist of the padding layer when carpet wands remove trapped moisture in the fibers but not the pad underneath it. Controlled demolition provides a stable foundation to reinstall new materials "Like it never even happened."
SERVPRO of Marina Del Rey / Westchester / El Segundo technicians are ready 24/7 to help with water disasters that damage your home. Contact us today at (310) 333-0654.