What Is Spot and Stain Removal After Flood Damage?
7/29/2020 (Permalink)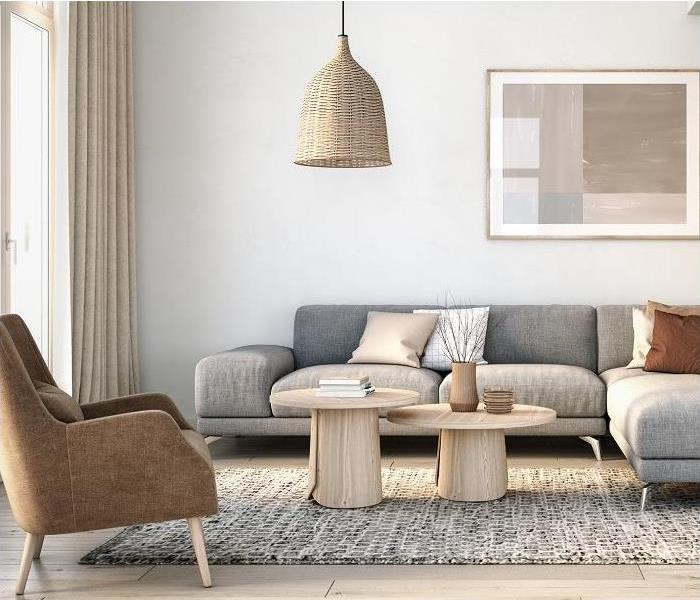 Flooding damages upholstery and carpet fibers and leaves stains. SERVPRO techs are trained in flood restoration. Call us today!
SERVPRO Helps Los Angeles Homeowners Restore Delicate Materials After Flood Damage
Everyone living in the Los Angeles area has at least one carpet or a rather delicate furniture item. Maybe you have a fancy rug or a chair with delicate upholstery, or perhaps your favorite drapes are made of a material that stains easily.
After flood damage in Los Angeles, the initial cleanup focuses on healing the significant problems such as waterlogged rooms or soaked drywall. However, there are other, smaller but no fewer essential concerns, too. For example, if contaminated floodwater has left your prized Persian rug damaged or left a stain on the sofa you inherited from your aunt, you will want to get that resolved as soon as possible. Luckily, SERVPRO of Marina Del Ray / Westchester / El Segundo is here to help.
How does spot and stain removal differ from regular cleaning?
Spot and stain removal are a more specialized techniques than general cleaning. Spot and stain removal always occur before cleaning the rest of the surface because spot cleaning can cause some discoloration or changes to the affected area. Cleaning the entire item after spot cleansing reduces any changed areas' appearance and helps the spot or stain disappear.
Which parts of my home might need spot and stain removal?
The most common areas that need help with water damage stain removal are:
Upholstery on chairs and sofas
Carpets and rugs
Antique furniture such as a chaise or a day bed
Drapes and especially drapes made of delicate material like silk or velvet
Are there differences between spots and stains?
You might not know that there is a difference between a spot and a stain. Let us look and see what makes them different from one another.
Adding something to the fiber such as wax, sugar, food spills, or gum, produces a spot. A stain means the grain has been discolored, such as with spilled wine or Kool-Aid or coffee. When color leaches out of the fibers, materials become tarnished. For example, a bleach spill can discolor fibers.
SERVPRO trains our technicians to recognize the different kinds of spot and stain and formulate an appropriate treatment plan for flood damaged Los Angeles properties.
Are there different kinds of soil?
Several different kinds of soil can dirty fabrics. Types of soil include:
Water-soluble soils such as sugars and starches which are removable with a water spotting product
Oil-soluble soils such as greases and tars which can are removable with an oil-based spotting product
Protein-based soils such as egg or milk break down with an enzyme-based product
Color-adding soils such as toner or tannins require dry brushing followed using an appropriate spotting product
Discoloring soils with products like bleach are ineffective with existing damage
Insoluble soils such as sand or skin cells are best removed by vacuuming and sometimes by suspension and extraction
What is the SERVPRO spot and stain removal process?
SERVPRO trains our technicians to follow an effective spot and stain removal process. The first step is to extract excess soil if possible. Most stains can be dealt with more effectively if they are dealt with immediately. It is best to do this first step when fibers are dry – your SERVPRO team will point out the best course of action, depending on the extent of the flood damage and whether the material is wet.
The next step is to assess the soil type. As we have discussed, there are six main soil types, and ascertaining, which kind we are dealing with is essential. Before cleaning commences, we must determine the type of fiber. Different materials respond differently to cleaning methods, so it is essential to know what kind of fabric we are cleaning. We use burn tests, chemical tests, and specific gravity tests to figure out your drapes or upholstery fiber composition.
After our initial assessment, we will liaise with you to ensure you understand which cleaning method is best for your water damaged possessions and what the results are likely to be. Once we have the groundwork established, we choose from the full range of solvents and spot cleaning products at our disposal and beginning the spot cleaning process.
When spot and stain cleaning is complete, our teams rinse and then thoroughly dry the material. Our aim is always to leave your furnishings as clean and fresh as possible - "Like it never even happened." Restoring delicate or antique materials after a flood is a tricky process. Do not tackle spot and stain removal yourself. Call SERVPRO of Marina Del Rey / Westchester / El Segundo at (310) 333-0654 for assistance.