We Address Your Los Angeles Flood Damage Right Away
6/1/2020 (Permalink)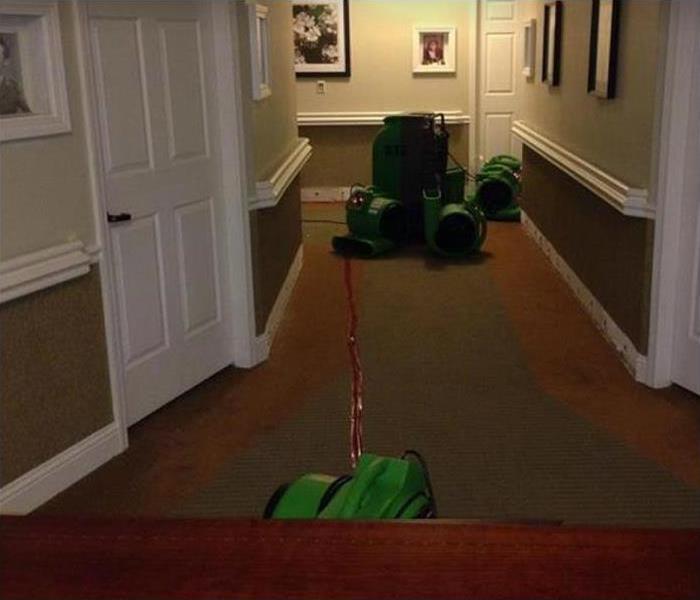 No matter the size or scope of your water damage, SERVPRO is always available to restore your home or business.
Reconstruction Needs After Flooding in Los Angeles Homes
Flooding can cause much stress for homeowners and destruction to Los Angeles properties. As much as our professionals can offer real-time mitigation to slow the movement of water damage effects in a house, little can stop the water flow when structural breaches are to blame. To reduce water penetration into your residence from roof damage or missing veneer material, you need contractors to offer temporary construction solutions.
Flood damage in Los Angeles homes can spread to become out of control without the appropriate preventative measures. In most cases, water extraction and drying efforts for gray or clean water loss incidents can be sufficient to protect exposed structural elements and most construction materials. These damages can persist without addressing the damage to your house's exterior allowing the water penetration. Our SERVPRO professionals have a full crew of licensed general contractors capable of handling structural compromise on both homes and businesses throughout the region.
Our team offers full support for recovery after a loss incident, especially one as destructive as flooding. We minimize our presence in your property through our fast tactics to overcome most obstacles that we face upon arrival. Contractors can offer emergency construction procedures, including temporary fencing to protect your vulnerable property from predators or animals. We can also set our contractors on the task of boarding up broken windows and tarping over openings nature causes to the roof.
Between May and September, the summer months bring about many of the worst storms homeowners are likely to experience throughout the year. Our professionals stay prepared for storm and flood damage. We have ready trailers stocked with our cutting-edge extractors, specialized equipment like light wands and disinfectants, and qualified personnel all accredited in various facets of the industry through the Institute of Inspection, Cleaning and Restoration Certification (IICRC.)
Storm damage can be a challenging situation to contend with on its own, but when these structural breaches are allowing flooding to occur, it is vital to address them as soon as possible. You can count on our SERVPRO of Marina Del Rey / Westchester / El Segundo team to make these losses "Like it never even happened." Call (310) 333-0654 today.
More about Los Angeles.