When Smoke Rises to the Attic of Your Los Angeles Home
2/25/2020 (Permalink)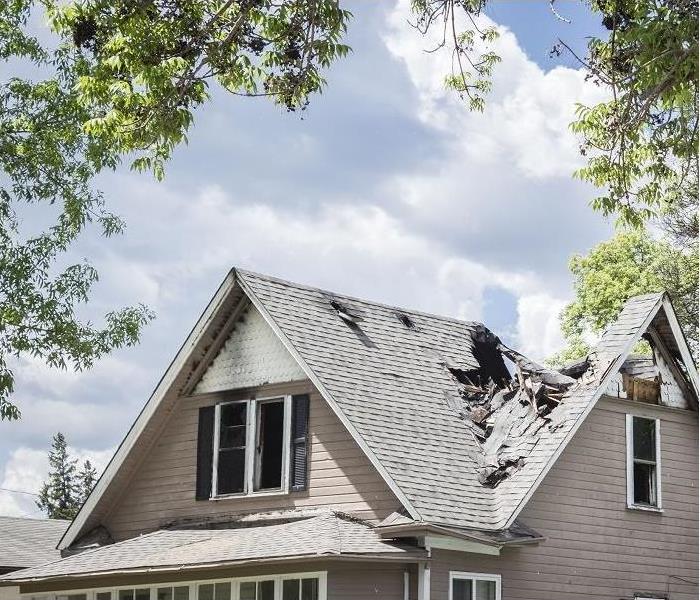 Smoke rises, and a fire in any part of the home can spread fire damage to the attic. Call SERVPRO for fast, effective remediation.
Fire Damage is the Minor Part of Los Angeles Home Restoration
When fire damage occurs in a home, in many cases, the fire gets put out before it levels the property. This cleanup is particularly challenging when the fire occurs in a confirmed space such as an attic or closet.
A homeowner with fire damage in Los Angeles called SERVPRO to assist with the cleanup of his unfinished attic. A small electrical fire had charred the exposed wood framework and left behind significant odors.
Containment to Stop Any Further Soot Spreading
The technicians put up plastic barriers over the attic doorway to stop any dust or soot from entering the home any more than it already had before the homeowner brought in the techs.
Cleanup of Charred Items
The homeowner cleaned up the initial fire loss in the attic but left behind many items with burn damage. The insulation in the attic remained and smelled strongly of smoke. SERVPRO technicians used a specialized vacuum attachment to collect the ruined insulation in a bag for disposal.
Smoke Damage
SERVPRO techs identified a large area of smoke damage on the attic ceiling and walls near the place the fire started. They tested the residues to confirm it was dry smoke and used dry cleaning sponges to lift it off the surface. This action helped to reduce the pungent odor in the attic substantially.
Specialized Cleaning for Wood
The wood beams in the attic had carbonized buildup from the fire and needed removal. The techs chose to use an application known as "dry-ice blasting." This treatment uses CO2 pellets fed into a hopper, and then compressed air forces them out with great force. They rasp away the charring without marring the raw wood and leaves no moisture since the dry ice sublimates directly from the solid into a gaseous state. Our SERVPRO techs eliminate additional wetness to the treatment area.
Final Odor Control Measures
To ensure the attic has no residual odors, the technicians use air scrubbers during the cleanup to capture airborne soot particles. Afterward, the use of thermal fogging ensures that any remaining odorous molecules get neutralized. Odor-masking of surfaces with special primer paint can prevent the escape of airborne molecules.
SERVPRO of Marina Del Rey / Westchester / El Segundo at (310) 333-0654 has specialized equipment and advanced restoration methods to bring homes back to their preloss condition, "Like it never even happened."
More about Los Angeles.