Our professionals have state of the art equipment to clean up and restore your home after a fire.
1/29/2020 (Permalink)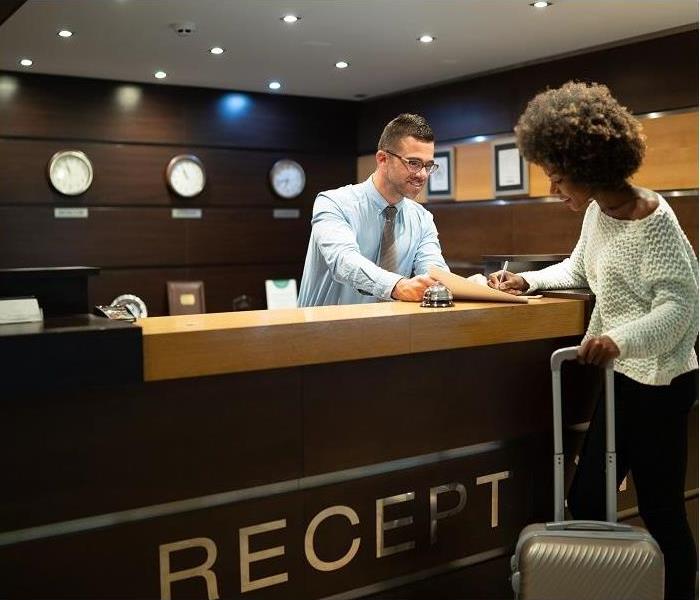 If water damage checks into your hotel, guests will check out. We are equipped and trained to fast water removal.
Removing Water from Guest Rooms in Marina Del Rey Hotels
To provide control for the guests of your Marina Del Rey hotel, you have stationary air conditioning wall units installed beneath the windows of each room. While this can accommodate the specific tastes and desires of the guests, it also has the potential to become mismanaged or tampered with by destructive individuals using the rooms. When these appliances malfunction, it can leave a watery mess on the floors of the room that might exceed the abilities of your custodial staff and housekeeping.
Our SERVPRO professionals can appreciate the timeline of reaching water loss incidents, even situations that require limited water removal for Marina Del Rey hotels, as quickly as possible. Within 48 hours of the initial incident, moist conditions can facilitate more troublesome effects such as mold growth and colonization. This secondary damage could pose a more direct and substantial risk to exposed guests, so our professionals work quickly to get dampness and water loss threats under control before these organisms can develop.
While you might not feel the gravity of losing one room to restoration processes, even smaller water loss incidents could migrate to affect multiple rooms on either side of the damaged area or a floor below. Wood subfloor can take days to dry completely when thoroughly saturated, so our technicians must get to work quickly on setting up centrifugal air movers to begin drying out the carpet, padding, and subfloor levels simultaneously.
In some cases, our SERVPRO professionals might only need to remove moisture from the carpet floors with our light wands, while other situations might be more involved. We have an in-house team of licensed general contractors capable of performing tasks like carpet removal and replacement for your units, or more complex rebuilds when subfloor must get reinstalled from prolonged moisture exposure.
Hotel accommodations make up much of the commercial properties throughout our region, and when disasters strike, you need fast and confident recovery solutions. Water losses can happen without warning, but with the experience of our SERVPRO of Marina Del Rey / Westchester / El Segundo team, we can get you back to business as usual quickly. Contact us today at (310) 333-0654.
More about Marina Del Rey.