We Act Fast In Los Angeles To Restore Your Home
9/23/2019 (Permalink)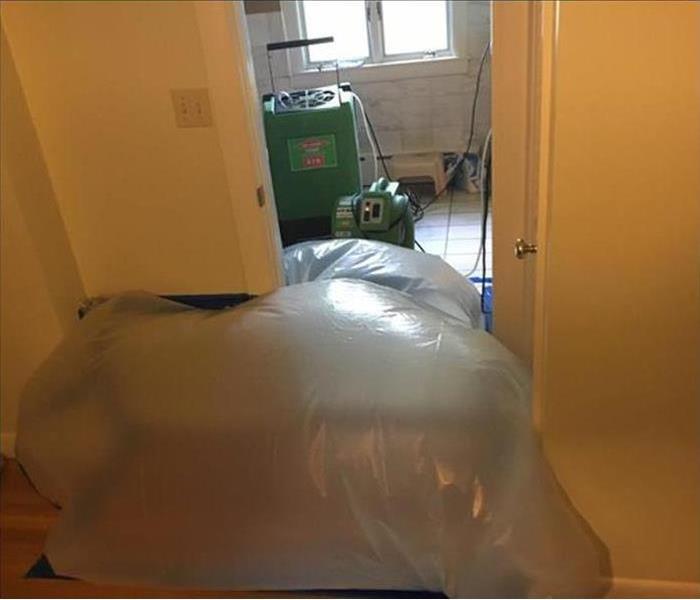 The air mover and the LGR dehumidifier ensure that we reach our drying goals and preserve your home.
Steps that Help During Water Removal from Affected Los Angeles Homes
Presence of water in unwanted areas of your home can cause great inconvenience or damages. Removing the water fast and adequately helps prevent severe damages and reverses some of the adverse effects. To accomplish such an outcome when your Los Angeles home is affected, several steps might be necessary.
Use of Light and Deep Extraction Tools
Using different types of tools can help ease water removal from your Los Angeles home. Depending on the source of the leak and configuration of your house, the water might pool in some areas. Light wands can help lift such water fast. In carpeted areas, the wand might not be handy because the fabric absorbs and holds on to water. Our SERVPRO technicians can use weighted tools such as Water Claws or Ride-on High Volume Extractors, which boost traditional extraction by adding weight, which squeezes out water from the carpet fabric.
Content Manipulation
Most of the areas in your home have heavy or bulky contents such as couches, beds, and even appliances. Unfortunately, when water spills, the spread patterns are indiscriminate so the contents can hamper the removal process. Moving the contents out of the way is not easy because of the weight and bulkiness. Our SERVPRO technicians help ease content movement in many ways. For example, we have hand trucks, which simplify the process of moving heavy items around the house. If the water damage is significant, we can also move out all contents to an external storage facility.
Controlled Demolition
Building materials such as drywall, wood, and others absorb water when there is a spill. Apart from that, they might conceal wet areas. Removing the wet materials or opening up cavities is essential, but it requires the right approach to achieve the appropriate outcome. Our SERVPRO technicians perform various controlled demolition steps including making flood cuts, punching vent holes, removing door and window trims among others, based on the specifics of the loss site.
Recovery from a water spill requires deliberate steps, performed promptly. Call SERVPRO of Marina Del Rey / Westchester / El Segundo at (310) 333-0654 when your property is affected. We're Faster To Any Size Disaster.
See more about Los Angeles.