Call The Professionals in Fire Damage Remediation Today for Your Los Angeles Home
6/16/2019 (Permalink)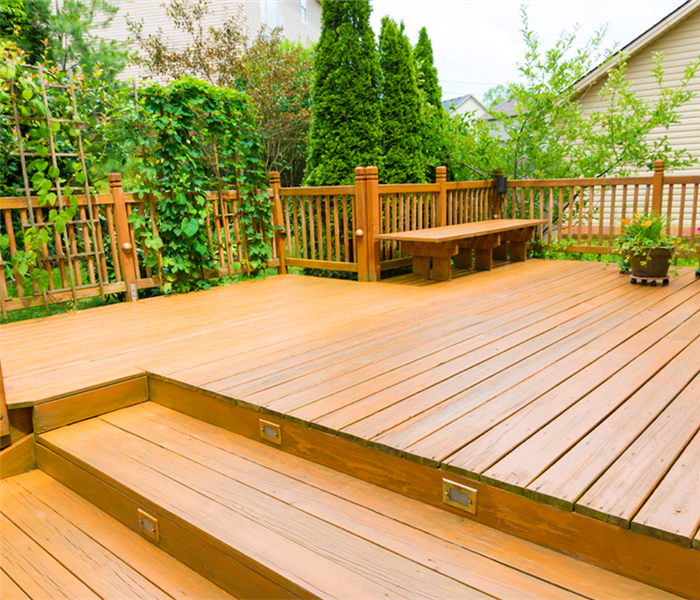 Don't let your gorgeous deck be overcome by fire damage remediation needs. Contact SERVPRO today for help.
Dark Scorching and Other Fire Damage from Decorative Patio Lighting Dirty and Soil a Los Angeles Residence
Decorating the outside living and entertainment space at your Los Angeles home with creative lighting options can make all kinds of gatherings more memorable. Unique lighting can make photos of such events sparkle. Adding temporary lights still requires that you do so safely, as any wiring can cause electrical problems.
String lights can look great when splashed around your Los Angeles home's deck but fire damage, including slight scorching, can leave the area looking dirty. SERVPRO has highly trained specialists to assist residents in the area after a disaster harms their property.
String lights, as well as those that you use as part of a lantern, can catch fire and spread to other decorations. The smoke that ends up stuck to your exterior walls varies, depending on what burned.
If the food on the grill catches fire, the smoke that comes from this looks yellowish or any shade of brown. The soot sticks to most surfaces and produces a highly offensive, acrid odor. We use special cleaning agents that break the protein down so it can readily come off surfaces.
Paper, wood, and other natural items leave a drier, dusty soot that we can easily brush away and vacuum up. If you rub this soot into the surface, it leaves a gray or black mark that you can clean up relatively easily with soap and water. On surfaces that water might damage, we use stiff brushes to thoroughly remove the soot from the surface before it can work its way in deeper.
Man-made things leave behind the stickiest type of soot when they burn. Electrical cords, many decorations, and other items with components constructed with plastic or rubber leave the area full of black gooey carbon that might look like a thin layer of tar. Deposits like this can also emit gases that can cause health effects. Cleaning can make a bigger mess when done incorrectly.
With black soot, we need to use select agents that help to separate the deposits from affected surfaces. We use a small vacuum to remove the dried residue first and then finish removing the soot with a dry sponge. We might need to prime some areas for repainting. Priming allows the top coat to adhere better and prevents flaking later.
SERVPRO of Marina Del Rey / Westchester / El Segundo knows how to restore your patio in Playa Vista, Loyola Village, or Lennox when fire damage leaves smoke and soot behind. Call us at (310) 333-0654, so we can help make your patio look "Like it never even happened."
Click here to see more about Los Angeles.