We Have The Expertise And Equipment To Restore Your Los Angeles Home After A Flood Damage Disaster
5/30/2019 (Permalink)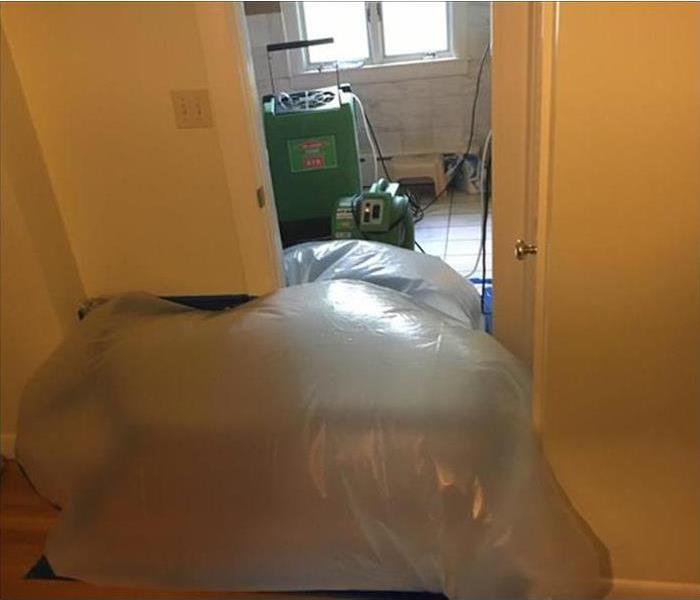 Homeowners may not know of the hidden and delayed effects of warping from incomplete dehumidification, but we are and have the necessary equipment.
Why Dealing with Flood Damage in Your Los Angeles Residence Quickly is Critical
Flood damage can occur after it rains heavily, and the water does not drain fast enough. Flood waters can ruin your hardwood flooring, drywall, wallpaper, paint, and appliances, among other things. Although flood insurance can reduce your financial strain, the recovery process still requires a lot of work.

When there is flood damage in your Los Angeles residence, your highest priority should be to remove the water, dry out the affected areas and clean up the property to prevent additional damage. This is where a full-service restoration company like SERVPRO comes in. Our water damage specialists can respond quickly to your emergency. We respond to emergency calls 24/7 every day of the year.

Drying out a property quickly is vital because water can weaken walls and floors as the wood within them absorbs it slowly and steadily. Damp wood is vulnerable to mold, which can cause health effects and weaken the wood further. Any electrical outlets, wiring, and fuse boxes exposed to water can pose health risks. It is vital to hire a professional to inspect electrical systems exposed to water to determine if there's any safety hazard and if so, repair them properly.

SERVPRO has the expertise and equipment to handle the most challenging cleanup and restoration jobs. Our technicians focus on drying, disinfecting and deodorizing affected areas safely to minimize damage to floors, walls, and ceilings. As certified members of the Institute of Inspection, Cleaning and Restoration Certification (IICRC), we follow a set of specific procedures and standards to ensure that everything in a flooded home is completely dry with no risk of microbial growth.

If there's standing water in your home, we can use pumps to extract it so that drying can take place much faster. We also use air moving equipment to move air around the home and then use dehumidifiers to remove the moisture that is in the air. We use moisture sensors to detect moisture in soft materials and moisture meters to find the actual moisture content of various materials and determine if a structure is dry.

If your home has suffered flood damage, SERVPRO of Marina Del Rey / Westchester / El Segundo can assist you to handle it in a cost-effective and efficient manner. Contact us at (310) 333-0654 for water removal, drying, and sanitization services.
Click here to see if you qualify for free trees being planted in your yard.