Why SERVPRO Is The Leader In Water Damage Restoration In Westchester
3/1/2019 (Permalink)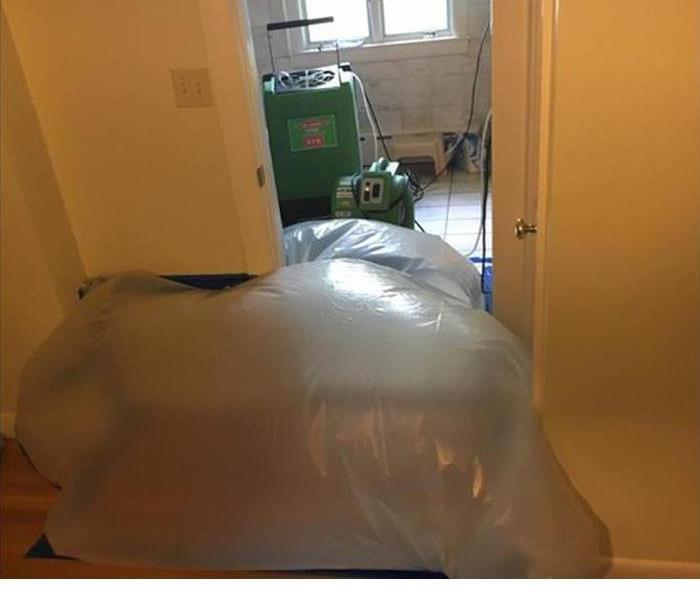 We have an air mover and a LGR dehumidifier to dry out water damage among other equipment that can handle any job big or small. Call us right away.
Why SERVPRO Uses Mats that Prevent Water Damage in Westchester via Steady Extraction of Hidden Water
When the construction of your Westchester home's hardwood floors took place, the workers installing it placed each new board close to the last one. These boards nearly touched along their edges but not quite. Minor gaps in between them let the boards contract and expand as needed when temperatures change.

These gaps in your Westchester home's floor are why SERVPRO specialists use dual purpose mats to stop water damage from ruining a significant portion of your Westchester property. When your sink overflows and floods your dining room, you need someone who is Faster To Any Size Disaster. SERVPRO's teams are always ready, day and night, every day of the year. Accidents happen at all hours, and we can help you protect your home when one happens.

As our powerful truck-mounted pump pulls the water out of your floor, the water travels up from underneath the boards and into the tubing. The gaps between floorboards help to channel the water along their lengths, acting like straws. This channeling action occurs for a distance of about a yard from the edge of the mat. Laying them so their length crosses over as many boards as possible means extraction occurs over a larger area for each mat. Increasing our efficiency in as many areas as possible helps us finish faster, saves you money, and minimizes secondary damages in adjacent areas of your house.

We regularly check to make sure that your floors become drier at a steady pace. Drying out too rapidly can cause cracking to happen in your floor's upper sections and result in the floor needing replacement sections. These can pose difficulties in matching them, as well as increase the cost of restoration. Our specialists have extensive training and hold IICRC certificates, giving us the skills and knowledge to prevent such mistakes. Our goal, as always, is to restore your home "Like it never even happened."

Complete extraction of lost water helps prevent water damage from taking place in the immediately affected area and also other sections of your property. Mold infestations occur only in the presence of lost water. Electrical fires can happen when corrosion from water seeping into electrical conduits takes place. Dry rotting of support beams can allow your home's frame to weaken and shift. Preventing water damage also helps keep these and other situations from affecting your home.

SERVPRO of Marina Del Rey / Westchester / El Segundo performs water damage prevention and mitigation in Loyola Village, Playa del Rey, and Lennox. Call us at (310) 333-0654 when your home needs trained specialists who know how to protect your property.
For a complete list of recreation centers click here.